August 2015
Annual General Meeting 2015 Recap
Under the theme "Certified Seed, a tradition of excellence" seed growers reunited in Montreal July 8
to 11th, 2015 for CSGA's 111th Annual General Meeting.  More than 230 people participated in the activities.
Members passed a resolution asking the Board to consider ways to lower the cost of Annual Meeting registration fees. Attendance at the 2015 Annual Meeting met historical registration numbers of years passed but registration is still low when considering the total number of seed growers across the country.  The Board will be looking at ways to lower registration costs to increase attendance and attract young seed growers to the meeting.
Participants appreciated the activities organized for the meeting. In addition to the business session, other highlights included a presentation from Vincent Cloutier, an agronomist and economist for La Coop fédérée "Agricultural Outlook" and from Frederic Dion, adventurist "Dreams, passion, attitude, perseverance, values".
Back to top
CSGA's 2015 Board of Directors
At the July Annual General Meeting, National Board Directors Don Zeghers of Manitoba, Daniel Lanoie of Quebec and Ed Hadland of BC stepped off the National Board.  These three directors were presented with plaques to thank them for their dedication to CSGA.  CSGA extends a warm welcome to new Board Directors Ryan Murray of Manitoba, André Lussier of Quebec and David Wuthrich of BC and thanks them for their involvement and dedication to CSGA and the seed industry.
CSGA's 2015 Executive Committee
Front row, L to R: Dale Adolphe-Executive Director, Norm Lyster-President, Kevin Runnalls-1st Vice-President; Back row, L to R: Djiby Sall-Provincial Government Representative on Executive Committee, Jim Baillie-Past President, and Jonathan Nyborg-2nd Vice-President.


CSGA's 2015 Board of Directors
Front row, L to R: Mitchell Japp, Richard Stamp, Dale Adolphe, Norm Lyster, Kevin Runnalls, Bryan Harvey, Bob Rugg. Middle row, L to R: David Wuthrich, Dan McEachern, Ryan Murray, Mark McNaughton, Jim Baillie, Jonathan Nyborg, Patti Rottenburger, Ron Markert, Joe Rennick, Julie Robinson. Back row, L to R: Jack van Roestel, Doug Heaman, Djiby Sall, Martin Provencher, André Lussier, Dale Connell & Peter Scott.
Back to top
Glyn Chancey Chosen as New Executive Director of CSGA
In preparation for Dale Adolphe's, CSGA Executive Director, retirement this fall, the Board of Directors announced at the Annual Meeting that Glyn Chancey has been chosen as CSGA's new Executive Director.  Glyn Chancey will be starting on October 5th and will have a transition period with Dale to assure a smooth transfer and the continuity of several important projects.  For background information on Glyn Chancey, please read the full news release.
Back to top
Recognizing Seed Industry's Best
An Awards Banquet was held on Friday, July 10th, 2015 to recognize our industries finest.  The following individuals were given the Robertson Associate Award.  The award is presented to those members who have fulfilled with utmost fidelity and success their obligation to the Association. (Click on a recipients name to read their full biography)
The following individuals were given an Honorary Life Award.  The award is presented to persons who, by distinguished service to the Association, have contributed to the betterment of Canadian agriculture. (Click on a recipients name to read their full biography)
René Daoust
Retired CSGA staff with 35 years of service for the Association
Denis Pageau
Researcher for Agriculture and Agrifood Canada
Randy Preater
Retired CSGA staff with 19 years of service for the Association and over 40 years for the seed industry
Sylvie Rioux
Researcher for CÉROM
Anne Vanasse
Professor at Laval University
Back to top
The Association of Official Seed Certification Agencies (AOSCA) Awards Two Canadians Honorary Membership Awards
In an unprecedented case, Chet Boruff, Chief Executive Director of the Association of Official Seed Certification Agencies (AOSCA) situated in Moline, Illinois, awarded two Canadians with AOSCA's Honorary Membership award.  CSGA's very own, Dale Adolphe and Randy Preater, were recognized with the awards.
AOSCA, upon recommendation of a vested member agency, and by majority vote of the voting representatives, may admit as an Honorary Member for life any person who has rendered outstanding service to AOSCA.  Since AOSCA's beginnings in 1919, only 85 individuals have been presented with this award.
Chet Boruff travels yearly to CSGA's Annual General Meeting.  He presented the awards in person and had the following to say:
"Dale Adolphe has served with distinction since first becoming a member of the AOSCA Executive Committee on August 11, 2002.  When AOSCA was reorganized in 2004, Dale became of a member of the Board of Directors, serving as one of its two global representatives.  Two of our eight Board members represent the Global region which speaks highly of the value AOSCA places on member agencies outside of the United States. He served as AOSCA President from June 2013 through June 2014. I have had the honor of serving on the Board of Directors with Dale for a number of years and I have seen firsthand the contributions he has made to our organization.  He is recognized globally for his work in the seed and agribusiness industries and AOSCA has benefitted from the international perspective he has provided to our organization.
In much the same way, Randy has provided leadership for many years as one of four members of the leadership structure for the AOSCA Certification Standards and Requirements Council that deals with the technical aspects of seed certification standards. He consistently served on a number of AOSCA committees and in the leadership of the Standards Council.  In addition to his work with CSGA and AOSCA, he also provided guidance to the OECD Seed Schemes.  Both in domestic and international seed certification, there is a "Randy Preater" stamp on programs when it relates to any of the many crops grown across Canada.
Probably for the first time in its history, AOSCA is awarding two Honorary Memberships to Canadians in the same year and this speaks highly of the leadership the CSGA has provided to our organization."
CSGA and the Board of Directors would like to congratulate Randy and Dale on this international recognition.
Back to top
Next Year's Annual Meeting is in Manitoba!
The Manitoba branch is pleased to welcome you next summer to the
scenic and beautiful Elkhorn Resort and Conference Centre at Clear Lake in Riding Mountain National Park.  Come to see that Manitoba is more than just Winnipeg, and by moving the meeting to Manitoba's premiere resort and conference facility, we believe that your Manitoba experience next summer will be enlightening, relaxing and "Invigorating"!
Riding Mountain National Park is over 3,000 kms of prairie parkland, where boreal forest, aspen parkland and the fescue prairie greet visitors of all ages and offers a vast array of activities for the entire family ranging from camping, to hiking, to shopping, to horseback riding, to golfing, to boating, and even just "beaching" it.
Clear Lake boasts one of the most scenic golf courses in Canada. Originally designed by Stanley Thompson, the 18 holes will thrill and frustrate you with fairways and greens that are among the best in the Province. Enjoy relaxing evenings by the campfire in our own private hospitality cabin. Enjoy one of the many hiking trails in Riding Mountain National Park.  Bring your walking shoes and binoculars so you don't miss seeing the diverse wildlife and topography that the Park has to offer.  From Bears to Bison, it's all there.  As well as hiking, there are many other outdoor activities on offer for you in the Park including Tennis, Lawn Bowling, Mini golf, or rent a bike or paddle boat and explore on your own. "Cowboy-up!" Learn to ride, drive, or pack a horse, throw a lasso. Try your hand at chuck wagon cooking. Track wildlife, or just relax and soak in the solemn majesty of wilderness that is Riding Mountain National Park.
Plan on joining us next summer in Manitoba's spectacular Parkland region, to "Invigorate" your mind, body and soul at the 2016 CSGA Annual Meeting!
Back to top
Thank You to our 2015 Annual Meeting Sponsors
CSGA would like to thank our generous sponsors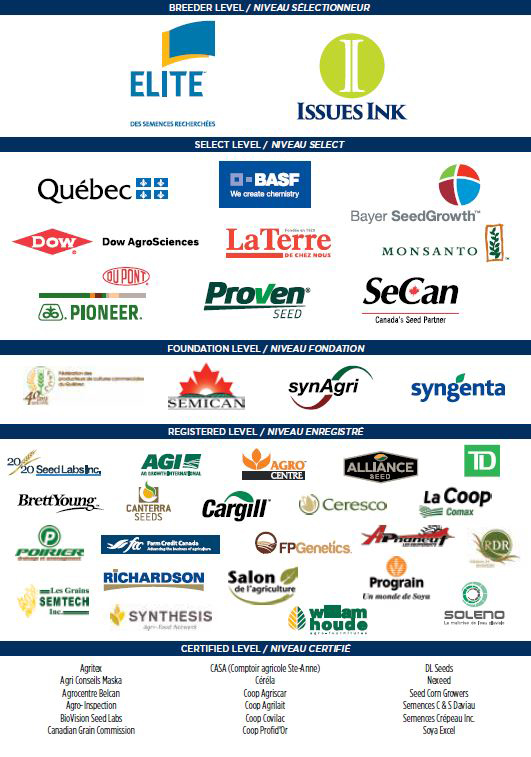 Back to top
Contact Us
CSGA staff is here to help and guide you. Don't hesitate to contact us. Remember the CSGA national office operates in the Eastern Standard Time (EST) zone.
Telephone: (613) 236-0497, Fax: (613) 563-7855, Email: communications@seedgrowers.ca
Mailing Address: P.O. Box 8455, Ottawa, Ontario, K1G 3T1
Courier Address: 240 Catherine Street, Suite 202, Ottawa, Ontario, K2P 2G8
Visit http://seedgrowers.ca/contact-us/ for complete contact information for our staff members.