May 2016
2016 Census of Agriculture benefits farmers
The Census of Agriculture is now on the horizon. In early May, you will receive a letter with easy to follow instructions on how to complete your questionnaire.
Census of Agriculture data are the definitive source of community-level data. By drawing on these data, decision-makers will be assured that they are acting in the interest of farmers, farm communities and agricultural operations.
Farm organizations are heavy users of census data and draw on this information to formulate policy recommendations, produce communications and outreach work, and conduct market development.
Regional, provincial and federal government policy advisors use Census of Agriculture data to help develop programs related to farm support and to evaluate the impact of natural disasters (such as floods, droughts and storms) on agriculture. This allows for a quick reaction when a natural disaster does occur.
The Census of Agriculture has other benefits:
It identifies trends and provides factual information on emerging issues, opportunities and challenges within the agricultural community.
Its questions cover a wide range of topics, such as land use, crops, livestock, agricultural labour, machinery and equipment, land management practices, and farm finances.
Support the seed and farming industry and complete your Census of Agriculture questionnaire in May 2016! It can be completed by anyone who is responsible for, or knowledgeable about, the day-to-day management decisions of your farming operation. As required by the Statistics Act, the information you provide will be kept confidential and used only for statistical purposes.
Important changes made to the online questionnaire for 2016:
Streamlined and easy to complete
Shorter and 30% faster to complete than in 2011
Respondents are no longer required to provide detailed farm expenses
Automatically adds totals and skips questions that don't apply to your operation.
Completing your questionnaire online is quick and easy:
Go to Statistics Canada's website at www.statcan.gc.ca and select the online questionnaire
Use the secure access code you will receive in the mail in May and conveniently complete your questionnaire.
As a farm operator, you are legally required to participate under the Statistics Act. For more information, please visit the Statistics Canada website.
Back to top
New Online Training Program for Retailers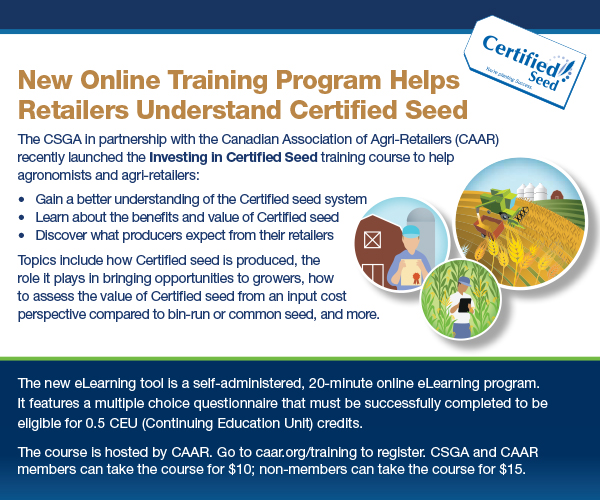 Back to top
Improved Members Area Released
On May 1st, CSGA released an update to the Members' Area of the CSGA website.  Members will notice a new grid layout which provides access to additional information.  The new 360' view of a field allows users to expand any given sequence to view relating information for that field including detailed fees, copies of crop inspection reports and supporting documentation like field maps and tags.
The updated application process also offers an improved layout.  Based on feedback collected in 2015, members now have the ability to save a draft of their application to complete at a later time. Furthermore, a new feature was added that allows members to link last year's field to this year's application to prefill land use and legal land locations.
We are also delighted to offer in this update access to CSGA's variety description database.  Members can search by crop kind and variety name to print or download the official variety description.  Useful throughout the growing season, the official variety description provides specific agronomic traits for the variety as described by the plant breeder of the variety.
Colored icons were added to the site in the Crop History tab to help seed growers visualize the progress of their inspections. Here is a quick reference guide for the icons:
| | |
| --- | --- |
| | The certification of your field is complete. A crop certificate has been sent to the seed grower or assignee. |
| | Pedigreed status was declined for this field. |
| | The certification of this field is progressing as planned. No action is required from the seed grower at this time. |
| | Payment is required to complete the certification of this field. |
| | Action is required. CSGA either requires corrective action or additional information to complete the certification of this field. |
Back to top
Applications
Spring is upon us and for our 3,500 members that means it will soon be time to complete your Application for Seed Crop Certification. Application packages were sent to seed growers on May 1st.  If you have not received your application package, check your email spam folder or contact the CSGA office.  You can also visit the Members' Area of the CSGA website to complete your application.  The Application Support Document is a very useful tool to use while completing your application forms.
Members with more than 25 fields also have the option of completing a bulk application.  If you are requesting the certification of more than 25 fields, contact the CSGA office to inquire.
Application for Seed Crop Certification and Application for Membership must be submitted to the CSGA by the prescribed deadline dates.  If you are applying for crops with different deadline dates, you may submit separate applications forms to respect the deadline dates for the various crops.
April 25 – Winter canola/rapeseed
May 25 – Fall seeded cereals
June 10 – Forages, flax, canola, mustard, corn and field peas
June 20 – All other crops
July 10 – Field beans, buckwheat and soybeans
Due to an early spring in most of western Canada, several crops are maturing quickly. Please ensure to submit your application before the deadline dates to ensure the inspection of your crop at the proper stage of maturity. For additional information on the proper stage of maturity for your seed crop, please refer to Circular 6. Additionally, if you are producing a crop of fababeans this year, please submit your application by June 10th, 2016.
Back to top
Hybrid Rye Production
If you plan to produce Hybrid Rye in 2016, please contact the CSGA office at 613-236-0497 x 228 for Variety Verification seed sample requirements. A pre-control (seed to be sown) and post-control (seed harvested) samples may be required prior to the issuance of a crop certificate.
Back to top
SeCan 40th Anniversary Event
SeCan is celebrating 40 years in the Canadian seed industry!
We're excited to invite all seed growers to our anniversary celebration during the CSGA annual conference in Manitoba.
Please join us for the Annual General Meeting at 4:00 pm in Salon D at the Elkhorn Resort in Clear Lake. Following the business session, we'll move to cocktails and dinner in Wasagaming at Danceland Hall – a historic log building that has been hosting concerts and events since 1934. There will be entertainment for the kids and dancing to "The Beetles" – a tribute band known to get everyone on the dance floor.
Don't miss SeCan's 40th party!
Back to top
You're Invited to CSGA's Annual General Meeting!
CSGA will hold its 112th Annual General Meeting at the Elkhorn Resort in Clear Lake, Manitoba, July 6-8, 2016. Seed growers, industry stakeholders and families are invited. The theme of this years' meeting, "Invigorate", will refresh, revitalize, stimulate, rejuvenate and strengthen your outlook on the Canadian seed industry. Registration is now open. Register by June 6th to take advantage of the early bird registration rate. We hope to see you there!
Back to top
Contact Us
CSGA staff is here to help and guide you. Don't hesitate to contact us. Remember the CSGA national office operates in the Eastern Standard Time (EST) zone.
Telephone: (613) 236-0497, Fax: (613) 563-7855, Email: communications@seedgrowers.ca
Mailing Address: P.O. Box 8455, Ottawa, Ontario, K1G 3T1
Courier Address: 240 Catherine Street, Suite 202, Ottawa, Ontario, K2P 2G8
Visit http://seedgrowers.ca/contact-us/ for complete contact information for our staff members.