November 2017
At a Crossroads: Where Do We Grow From Here? Seed Synergy Green Paper
As communicated in previous issues of Seed Scoop and Seed to Succeed, CSGA has been working over the past year with its partners at the Canadian Seed Trade Association, the Canadian Seed Institute, the Commercial Seed Analysts Association of Canada, the Canadian Plant Technology Agency, and CropLife Canada on the Seed Synergy Collaboration Project.
The goal of the Seed Synergy Collaboration is to develop and articulate a broadly supported vision for the next generation seed system. It is hoped that this vision can serve as a starting point for industry and government to begin to work together to enact real change, in order to build an industry-led, government-enabled seed system that drives innovation and growth throughout the value chain, and which has direct benefits for seed professionals.
Working together, and informed by feedback received through consultations that took place over the course of 2017 to date, the project team has put forward a comprehensive first draft: the Seed Synergy Green Paper. This document will, we hope, be the first step toward building a seed system that works better for you in the future.
Now we need to hear what you think.
We invite you to read the Green Paper  and the Executive Summary. We will be convening Seed Synergy discussions at both the CSGA Interprovincial Meeting on November 15th and CSTA's Semi-Annual meetings this month, to gather feedback. In addition, we plan to hold regional workshops this winter to provide more opportunity for discussion and comment, as well as to provide a simple online forum for any additional feedback.  In the meantime, if you have comments to share with us, please write to us at seedtalk@seedgrowers.ca.  We look forward to your comments.
You'll hear more about these further engagement opportunities as details become available. In the meantime, we hope you have an opportunity to read the Green Paper and develop your own ideas about what the Next Generation Seed System should be. We look forward to discussing these ideas with you!
Back to top
In Case You Missed It! Strategic Plan 2017-2023
In July, we sent you a special invitation to view our new Strategic Plan.  A lot of effort went into producing the plan and we thank each and every member who participated in discussions online and at branch meetings to make the plan reflective of member needs.  The CSGA is committed to supporting your seed business and strives to improve the services we provide you.  This is an evergreen plan and will be regularly updated going forward. If you have comments, please share them with us at seeds@seedgrowers.ca.  A hard copy of the new Strategic Plan will be included in your copy of CSGA's Seed to Succeed Magazine, later this month.
Back to top
Appeal Applications - Deadline Notice
Growers wishing to appeal the demotion or decline of one of their 2017 pedigreed seed crops, must submit an Appeal Application and applicable fees to the CSGA office no later than November 15th.
If you are appealing more than one field, please submit a separate application and applicable fees for each field/sequence number.  For more information on the appeal process, please contact Brianna Chouinard at the CSGA office at 613-236-0497 ext. 230.
Back to top
Sending in Plot Seed Samples?
The CFIA Variety Verification Program has been receiving open plot seed sample bags. This may happen if the bags are overfilled or if there are too many seed sample bags stuffed into a single box. Please ensure that all bags are completely sealed to avoid the mixing of seed, and rejection of compromised samples. For further information, please contact the CSGA office at seeds@seedgrowers.ca or 613-236-0497 ext. 204.
Back to top
Midge Tolerant Wheat Stewardship Agreements: The New Online System Depends on YOU!
The Midge Tolerant Wheat Stewardship Team is asking all distributors, seed growers, and retailers to submit any remaining 2017 Stewardship Agreements to AGDATA immediately.
With plans to migrate all Midge Tolerant Wheat Stewardship data to an online system for January 1, 2018, it is important that data is complete for the migration to be successful. The new system will provide:
Evergreen stewardship agreements (the grower signs once, then new purchases are added to their file)
Online data submission (the retailer enters the purchases directly into the database – eliminating paper, and potential for lost or double entries)
For more information, contact info@midgetolerantwheat.com.
Back to top
Working Towards 100% Implementation of the Accredited Seed Treatment Operation Standards
Effective January 01, 2018 only Accredited Seed Treatment Operations will be eligible to receive shipments of designated seed treatment products for application. In addition to the product listing it is the vision that all commercial seed treatment operations in Canada should adhere to the standards as an industry wide commitment to environmental, health and safety continuous improvement.
If you're a Seed Treatment site that has completed a pre-audit – but as of July 2017 have not completed a full audit – expect to be contacted by CropLife Canada staff to ensure you are aware of the standards, scope and applicable timelines. Potential sites were encouraged to complete an audit with any of the 32 Agrichemical Warehousing Standards Association (AWSA) accredited auditors nationally. The auditors will schedule a mutually agreed upon date/time to complete the audit (approx. 2-3 hours) with the audit cost paid by the site (approx. $500).
The AWSA and auditors continue to receive inquiries from sites to provide audit interpretations. Seed treatment application is a very dynamic industry. There are lots of unique seed treating equipment, application and handling set ups. All information, including bulletins issued on industry audit interpretation consistency, are posted on the AWSA website in the seed treatment standards resource section.
In tandem with these efforts to fully accredit all sites, CropLife Canada released an initial seed crop treatment list for designated seed treatment product back in July 2017.  The list will be updated periodically thereafter. The scope of the standards are applicable for the "commercial" segment of the industry. For more information, please contact Russel Hurst, CropLife Canada, at hurstr@croplife.ca
Back to top
Get Paid on Time, Every Time!
Next time your customer pays an invoice late, or their cheque bounces – are you ready?
Farmers have some of the most vulnerable incomes in Canada with weather, shipment and finally sales making things unpredictable. So the Canadian Federation of Agriculture (CFA) have partnered with the non-profit Farmers of North America Strategic Agriculture to help farmers get insured. They came up with Market Power Assurance.
They made this product especially for farmers worried about getting paid on time – or worried about getting paid at all – for their domestic or international business. What that means is you get insurance on each and every invoice.
Farmers put a lot of their time and energy in what they grow, but they're often uninsured. The CFA received help from the Federal AgriRisk Initiative Funding Program to get this off the ground and to give you the chance to properly insure yours and your family's livelihood.
This product is available now, but you also get the chance to create an insurance plan that works for your business. CFA has started consultations with farmers to learn what they want out of an insurance plan. We encourage seed growers to participate in the consultation by completing a five minute survey at this link.
If you have any questions about this project or the survey itself, please contact Scott Ross at scott@canadian-farmers.ca or Bob Friesen at robertfriesen@bellnet.ca from the Canadian Federation of Agriculture.
Back to top
Saskatchewan Pulse Growers Licenses Distribution Rights for Select Pulse Varieties
To sell Crop Development Centre (CDC) pulse varieties outside Saskatchewan, you'll need to contact SeCan or SeedNet.
The Saskatchewan Pulse Growers have distribution rights in Saskatchewan. This week, the SPG announced a new 10 year agreement to license these companies distribution rights outside the province. SeCan and SeedNet will be collecting plant breeder royalties outside the province on behalf of the Saskatchewan Pulse Growers.
The full list of varieties that SeCan and SeedNet have rights to is now available on the Saskatchewan Pulse Growers website.
Seed growers in Saskatchewan will continue to buy and sell seed of these varieties royalty-free in Saskatchewan.
Selling outside the province is now prohibited without an agreement in place with either SeCan or SeedNet. Unauthorized sales are an infringement of Plant Breeders' Rights, since CDC royalties for the development of these varieties are not collected. Without them, the CDC cannot continue to pay for the development of new seed varieties that are disease resistant, higher quality, and higher yield.
If you are a seed grower outside of Saskatchewan and currently in possession of pedigreed seed of the licensed varieties, and are not already affiliated with SeCan or SeedNet, please contact them immediately for available options. Contact information is available here.
Back to top
Harold Rudy Inducted to Soil Conservation Council of Canada's Conservation Hall of Fame
On August 22nd, the Soil Conservation Council of Canada (SCCC) inducted Harold Rudy, into the Canadian Conservation Hall of Fame. For those of you who know Harold primarily through his role as longstanding Secretary Manager of Ontario Seed Growers Association, this is may be a revelation. However for the soil and crop community it comes as no surprise.
Harold Rudy grew up and continues to live on the family farm with his partner Sandra, near New Hamburg, Ontario, where his thorough understanding of grassroots agriculture began. He earned a Bachelor of Science (Agriculture) – Economics and Business Major and a Master of Science, School of Rural Planning, both from the University of Guelph. Following work in farm management and research, he joined the Ontario Ministry of Agriculture and Food (OMAF) as a "Soil Conservation Advisor" where he assisted farmers in all aspects of soil conservation.
In 1987, when Ontario Soil and Crop Improvement Association (OSCIA) began program delivery, he began his 30-year career as their Executive Director, to which he brought his considerable expertise in working with others to improve soil management and soil health. In this regard, Harold is perhaps best remembered for his role in the delivery the Environmental Farm Plan and as well as for the leadership roles he played in the development and delivery of many subsequent programs and projects of benefit to Canadian farmers.
OSCIA's history of success has empowered countless agricultural producers to learn more about how their land management decisions impact on-site sustainability and profitability, and off-site quality of life. Harold has shared his insight and experience in program delivery across Canada and around the world. In his current role as OSCIA Executive Officer, Research and Business Development, he strives every day to heighten interaction between researchers and producers in targeting resources to better understand soil health and the role of soil life for optimal farm production and stewardship practices.
Not content to rest on his laurels, Harold is currently working on a book, "The Soil Fixers," which documents the many contributions to Ontario agriculture by members of the OSCIA and partners from the mid-1980s to the present day.
On behalf of all seed growers, CSGA congratulates Harold for this remarkable achievement.
(Source: Regional Country News)
Back to top
Thank You Halifax! Recap of CSGA'S 113th Annual General Meeting
CSGA's Annual General Meeting was held in Halifax, Nova Scotia from July 10th to the 13th, 2017 just days after Canada celebrated its 150th Birthday.
The highlight of this year's event was the Wednesday July 12th morning session where over 300 representatives from the seed industry's six major associations gathered to discuss the next phase of the Seed Synergy Collaboration Project; designed to forge consensus around a next-generation seed regulatory system for the country. In addition to the Seed Synergy Project discussions, sessions on a potential end-point royalty system for Canada and the unveiling of CSGA's new 5 year Strategic Plan took centre stage. The large turnout for the July 12th sessions was made possible by CSGA and CSTA's decision to hold their meetings together, in the same week in Halifax, a format that will be repeated in Montreal in 2018 and Whistler in 2109.
This new meeting model not only facilitated joint business sessions in Halifax but provided significant opportunities for industry networking and shared family social events, including – most notably – a joint CSGA-CSTA Family Fun Night on Monday, July 10th where over 400 delegates to the two meetings and their families were brought together for an evening of good food, camaraderie and entertainment, with the generous support of the event sponsor Bayer CropScience. CSGA delegates also enjoyed an additional family social event on July 12th at the legendary Shore Club in Hubbards, Nova Scotia, where over 200 CSGA members, industry colleagues, and family were treated to more live entertainment and of course lobster through the generous support from the event sponsor SeCan.
Overall, an extremely productive and enjoyable meeting for all who attended and that would not have been without the record breaking support of our many and generous sponsors.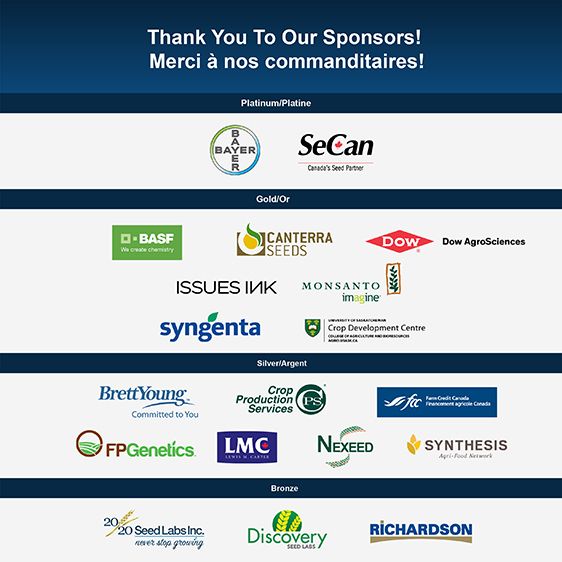 Back to top
Contact Us
CSGA staff is here to help and guide you. Don't hesitate to contact us. Remember the CSGA national office operates in the Eastern Standard Time (EST) zone.
Telephone: (613) 236-0497, Fax: (613) 563-7855, Email: communications@seedgrowers.ca
Mailing Address: P.O. Box 8455, Ottawa, Ontario, K1G 3T1
Courier Address: 240 Catherine Street, Suite 202, Ottawa, Ontario, K2P 2G8
Visit http://seedgrowers.ca/contact-us/ for complete contact information for our staff members.