Seeds Canada Amalgamation Ratification
The CSGA, along with the Canadian Seed Trade Association (CSTA), the Commercial Seed Analysts Association of Canada (CSAAC), the Canadian Seed Institute (CSI), and the Canadian Plant Technology Agency (CPTA) are proposing to amalgamate. The objective is to create a single national seed association that will support the Canadian seed sector in increasing its competitiveness and added value to Canadian agriculture, in a rapidly evolving global seed market.
This summer, the CSGA Board of Directors is asking its members to vote on a proposal to amalgamate the CSGA, CSTA, CSAAC, CSI, and CPTA. Now is the time to become informed, to weigh-in and ultimately to vote on this proposal.
About Seeds Canada
If approved by the members of the five different amalgamating partner, Seeds Canada will deliver for the seed sector a single streamlined national organization that is ready and able to:
Foster a globally recognized industry that grows and innovates by bringing together seed industry stakeholders from every region and all segments of the value chain;
Deliver best-in-class member and client services delivered by professional staff working more closely together;
Ensure a relentless focus on the efficiency, effectiveness, and timeliness of seed certification and quality assurance;
Build a strong, united voice for Canada's seed industry that successfully advocates for industry needs and interests;
Focus on excellence in professional development for members across all segments of the seed industry value chain;
Strengthen the industry's competitiveness through access to new, more innovative varieties and technologies; and,
Use its greater capacity to shape and implement a revitalized and modernized national seed system that enhances Canada's reputation as a global leader in safe and reliable food.
Special General Meeting and Voting
A virtual Special General Meeting (SGM) of members has been called for August 27, 2020, from 11 am to 1 pm ET. Members of the Association will receive hard copy ratification package documents by regular mail by July 15, 2020, including a unique control number for membership validation and access to a designated, online address to cast your vote.
Online voting will open July 15, 2020 and will remain open throughout the meeting on August 27, 2020. For the amalgamation to proceed, at least two-thirds (2/3) of votes cast by members of each of the five organizations (CSGA, CSTA, CSI, CPTA, and CSAAC) must be in favour of the amalgamation.
The CSGA looks forward to connecting with its members about this exciting time for Canada's Seed sector.
About Amalgamation Ratification & Next Steps
We understand that there will be many questions about the amalgamation proposal. To prepare for your vote, CSGA has provided the ratification documents for the proposed amalgamation ratification below. We encourage you to review these documents.
We are providing multiple ways in which to increase your understanding of the proposed Amalgamation Agreement and the shared Seed Synergy partners' vision for Seeds Canada and the Canadian seed sector. We are offering a series of virtual Town Hall sessions for you to ask any questions and hear from fellow CSGA members. These meetings will run through July and August. Town Hall dates and registration details are available below. Also, we will soon be releasing a pre-recorded information webinar to supplement the Amalgamation Ratification Package.
Ratification Package Documents
---
Information and Engagement Opportunities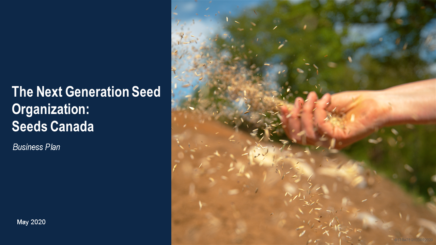 A helpful overview of the amalgamation ratification package, with timestamps for easy use.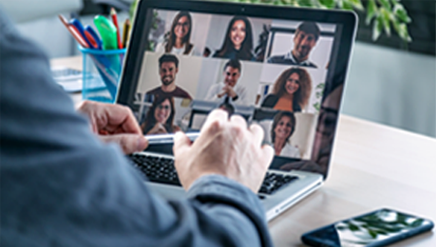 Register for one of our live Town Hall virtual Q&A meetings offered through August.
To support your decision-making process ahead of the vote, these live Town Hall virtual meetings allow CSGA to answer any of your amalgamation questions.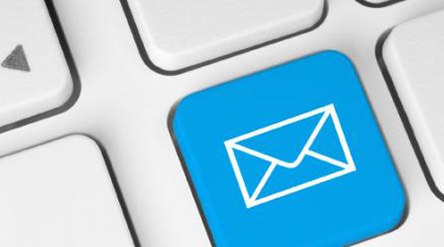 Links to recent member communications sent via email regarding the ratification proposal.
---
Additional Resources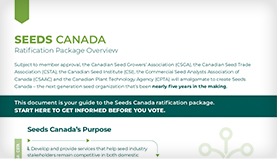 Seed Synergy Overview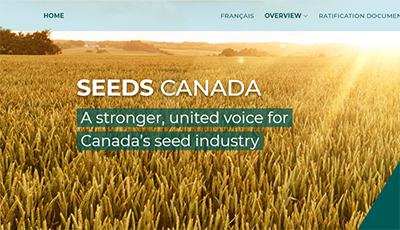 Seed Synergy website
This website will be updated periodically. Check back often.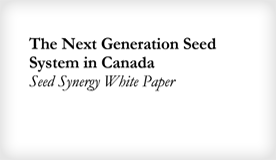 Seed Synergy White Paper
The Next Generation Seed System in Canada.