Dr. Brian Rossnagel – 2016 Clark Newman-Clayton Award Recipient
Raised on a half-section mixed farm in the Tupper district of Manitoba (50 miles east of Clear Lake), Brian attended East Tupper one-room country school through grade eight. He graduated from Plumas Collegiate in 1969 and went on to the University of Manitoba obtaining a BSA in Plant Science in 1973 and a Ph.D. in Plant Breeding and Agronomy in 1978.
In 1977 he began a 35-year career as barley and oat breeder with the Crop Development Centre at the University of Saskatchewan in Saskatoon. During that period Brian and his team developed over one hundred barley and oat varieties attracting nearly 20 million dollars in research funding. Major research interests included the development of high quality milling and feed oat, high yielding top quality feed barley, premium quality two-row malting barley, hulless barley for feed, food and malting and oat and barley for forage all in collaboration with Canadian and international biotechnologists, pathologists, cereal chemists, animal nutritionists, agronomists, domestic and international industry end-users, farmers and pedigreed seed growers
.
Brian served as the CDC Advisor to the Saskatchewan Seed Growers Association board for 29 years and made annual presentations on things such as upcoming CDC varieties, organized more than a dozen probation growers short courses and assisted with many SSGA Seed Industry days. He was a founding member of the SSGA/Canadian Food Inspection Agency/Canadian Western Agribition group that initiated the Agribition Grain Show in 1980 and served as the chair of that committee for seven years. Along with an innovative and adventurous group of seed growers, he was a founding partner in Value-Added Seeds Ltd. (now FP Genetics). Whether giving assistance to SSGA, or others, Brian always championed the value of pedigreed seed and the best interests of farmers, Saskatchewan and Canada.
Brian has received numerous recognition awards including Honorary Life Memberships in the Saskatchewan, Canadian and Alberta Seed Growers' Associations; induction into the Saskatchewan Agriculture Hall of Fame; the Saskatchewan Order of Merit; the Saskatchewan Institute of Agrologist's Distinguished Agrologist award; the University of Saskatchewan's Award for Distinction in Extension and Public Service; a Fellow of both the Canadian Society of Agronomy and the Agriculture Institute of Canada and the American Oat Workers Conference Distinguished Service to Oat Improvement Award; to name a few, and is currently a University of Saskatchewan Distinguished Professor Emeritus.
Brian has been active in many other professional and agricultural organizations often serving in board and executive positions, including the Western Grains Research Foundation, the Saskatchewan Institute of Agrologists, the Canadian Society of Agronomy, the International Oat Conference, the International Barley Genetics Symposium, the American Oat Conference, Canadian Western Agribition, the Royal Agricultural Societies of the Commonwealth, the North American Barley Researcher's Workshop, the Prairie Registration Recommending Committee for Grain, the Saskatchewan Agriculture Hall of Fame, Saskatoon Prairieland Park Corporation, AgWest Bio and Farm & Food Care Saskatchewan.
Brian's research and industry involvement gave rise to a number of improvements to milling oat varieties laying the groundwork for Canada to become the major international supplier of oat for food. He also pioneered the development of specific forage and feed quality oat for cattle producers in Western Canada. In addition, to feed and malting barley improvement, he pioneered work on hulless barley including waxy and high amylose high soluble fiber food barley, forage barley, semi-dwarf barley, hulless malting barley and low phytate feed barley for the hog industry.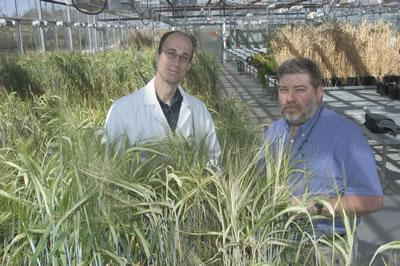 Oat varieties of note include milling varieties Calibre, Derby, CDC Dancer, CDC Morrison, CDC Seabiscuit and CDC Ruffian; CDC Baler and CDC Haymaker forage oat; and CDC SO-I and CDC Nasser low lignin high-fat specialty feed oat.
Barley varieties of note include feeds CDC Dolly and CDC Austenson; CDC Cowboy and CDC Maverick forage and low input type; CDC McGwire and CDC Carter hulless; CDC ExPlus and CDC Clear hulless malt; CDC Meredith and CDC Kindersley malting; CDC Rattan, CDC Fibar, CDC Marlina and CDC Hilose food barley as well as collaborative development of several malting varieties with Bryan Harvey including Harrington, CDC Kendall and CDC Copeland as well as CDC PolarStar and CDC Reserve in collaboration with Sapporo Breweries, Japan.
Brian published many technical articles and co-authored more than 75 journal papers as well as supervising and advising more than 50 graduate students. Heavily involved in extension to farmers and industry, Brian shared his expertise at over 200 extension and scientific events across Canada and in Australia, Japan, New Zealand, Scandinavia and Europe. An ability to relate to farmers and the media resulted in hundreds of interviews and field days, thousands of phone calls and many requests for written information.
Brian retired in 2011, was made a U of S Distinguished Professor Emeritus and continues to assist the CDC barley and oat program on specific breeding projects around food barley, forage oat and barley and specialty feed oat. He has also become involved as research advisor to Prostate Cancer Canada and is active in the Saskatoon Prostate Cancer Support Group.
Brian and his wife Laurel live in Saskatoon and now get away from most of the winter by heading to Victoria, B.C.