Getting Started in Seed Production
The CSGA encourages and supports new seed growers and we look to the next generation of proud farmers to carry on Canada's international reputation of quality seed producers. If you are interested in pedigreed seed production, please read this page for information on where to start and don't hesitate to contact us for guidance.
Step 1: Obtain a copy of necessary documents
Descriptions of the varieties you intend to produce
Step 2: Purchase pedigreed seed of Foundation or Registered class
Foundation or Registered class seed may be purchased in bags or in bulk. The bagged seed must be tagged with official tags. Pedigreed seed purchased in bulk must be accompanied by official pedigree documentation. You must keep the tags and/or documentation to present to the seed crop inspector and for the CSGA upon request. This is proof of the pedigree of the seed you sow. A copy of the mechanical purity and germination analysis certificate for this seed should also be available to you.
Step 3: Familiarize Yourself with Circular 6
The Canadian Regulations and Procedures for Pedigreed Seed Crop Production, also known as Circular 6, contains the requirements to produce pedigreed seed crops in Canada. Growers wishing to produce pedigreed seed should understand these requirements and plan their operations to comply with them. New seed growers should read Sections 0 and 1, in addition to the Sections that apply to the crop kinds they intend to produce. If you have questions, please contact the CSGA.
Step 4: Verify that your land meets previous land use requirements
Pedigreed seed production has strict land use regulations to minimize the risk of volunteers of other varieties and other crop kinds from growing in the pedigreed seed crop. If you are uncertain of the eligibility of your farm land to produce a pedigreed seed crop, a Land Use Verification form can be completed and sent to the CSGA prior to seeding. CSGA will evaluate your land use plan and will send you a written confirmation that your plan meets CSGA's requirements. Previous land use regulations are specific to the crop kind and pedigreed crop status and are found in the Canadian Regulations and Procedures for the Production of Pedigreed Seed Crop (Circular 6).
Step 5: Isolate the crop
CSGA's regulations require specific isolation distances to separate pedigreed seed crops from other crops. The isolation distances are specific to each crop kind and pedigreed crop status and are found in the Canadian Regulations and Procedures for the Production of Pedigreed Seed Crop (Circular 6). Plant your pedigreed seed crop to meet these specific isolation distance requirements.
Step 6: Contract an Authorized Seed Crop Inspection Service and Submit an Application for Crop Inspection to the CSGA Office
Pedigreed seed crops must be inspected by authorized inspectors at the required stage of maturity during the growing season. To request an inspection of your seed crop, submit a completed Application for Seed Crop Certification and an Application for Membership in CSGA to the CSGA office. Your Application for Seed Crop Certification must indicate the name of an Authorized Seed Crop Inspection Service (ASCIS) contracted to inspect each of your fields.  Seed growers must arrange to have their fields inspected by contacting an ASCIS. To find an ASCIS that operates in your region, use our interactive search tool.

Applications can be submitted via hard copy or online in SeedCert. To receive an account number and password to enter the site, please complete the following form:

CSGA must receive the Application for Seed Crop Certification and Application for Membership before the prescribed deadline dates. Inspection fees are to be paid directly to the ASCIS. Consult the Application Support Document for application instructions and visit our application information webpage.
Step 7: Update your Contact Information
It is very important to keep your contact information up to date with the CSGA office. CSGA communicates via email throughout the growing season to keep you informed on the status of your pedigreed seed crop inspections. Important correction notifications are also sent by email.
CSGA's monthly Seed Scoop e-newsletter contains notices of regulation changes and updates on CSGA programs and activities. To update your email address and contact information, login to SeedCert or contact the office.
Step 8: Rogue your Crop
The crop must be rogued throughout the growing season to remove plants of other varieties, off-types, difficult-to-separate other crop kinds, and objectionable weeds. CSGA Learn's Course 5: Pre-Inspection and Roguing 101 provides you with important information about pre-inspection and roguing a field along with detailed roguing information and images by crop kind. You can also refer to the official variety description and CSGA's Rogues and Roguing Manual for details.
Step 9: Make Sure It's Been Inspected  
Do not harvest the crop until you are positive that the crop has been inspected by an authorized inspector. The inspector must provide you with a copy of the report of crop inspection. The original of this report is used by CSGA to appraise the crop and determine its eligibility for certification. If you are uncertain whether your crop has been inspected, login to SeedCert to view the status contact of your field or contact your licensed seed crop inspection service.
Step 10: Crop Certificates or Corrective Action Notices
After the inspection, CSGA will appraise the crop inspection report. If all requirements are met, an official crop certificate identifying the details and pedigree of your seed crop will be sent to you. If CSGA has questions relating to the seed crop (eg: additional information is needed on previous land use), or if corrective actions must be taken prior to completing certification (eg: the isolation needs to be corrected), CSGA will communicate with the seed grower that additional information or corrective action is required before the certification process can continue. Seed growers receive these notifications by email or mail. It is most important to keep your personal information up to date with CSGA. It is crucial to have a valid email address in your account profile in order to receive time-sensitive CSGA notifications and requests for information.
Step 11: Enroll in CSGA Learn
CSGA Learn, Canada's first online seed learning supports new seed growers in seed crop certification. Our various courses and programs help you learn more about Certified seed production, regulations, and best management practices to support your success and help you achieve recognition in the seed sector. Based on Canada's National Occupational Standards (NOS) for seed production, each course focuses on a particular aspect of the seed system and includes field crop photos, videos, glossaries, and reference links to enhance your learning.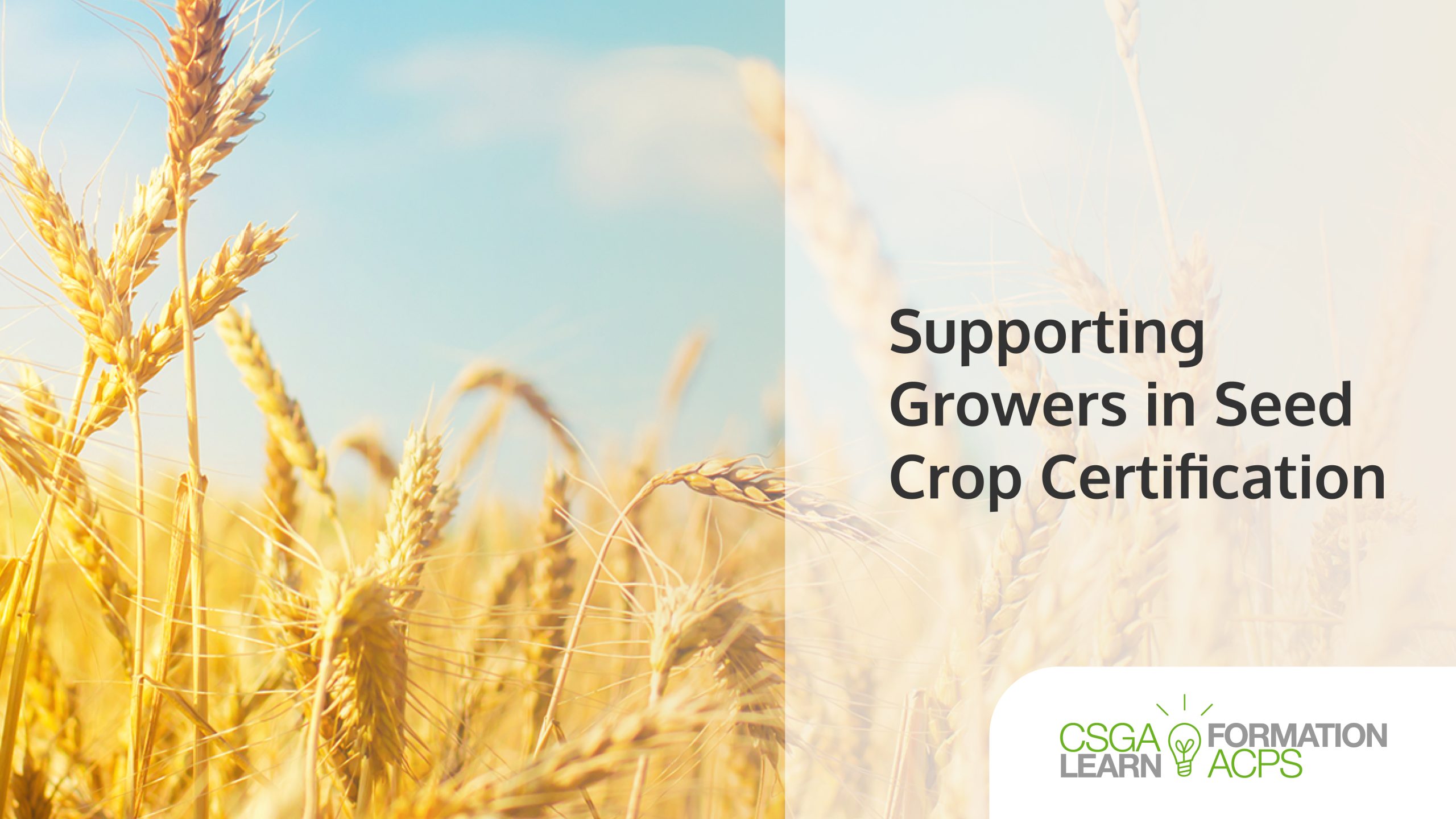 The Introduction to the Seed Production Program focuses on learning the procedures, standards, and best management practices to help you succeed in your production of certified seed. CSGA looks to the next generation of innovative farmers to carry on Canada's international reputation for premium quality seed production. If you are a new seed grower, or a seed professional just starting out in a seed business, this modular program will support your success and first years in seed production.
Course 1: Introduction to the Canadian Seed Sector
Course 2: Seed Certification Classes
Course 3: Producing Foundation, Registered and Certified Seed Crops
Course 4: Seed Crop Certification Process and Traceability
Course 7: Harvest, Handling and Storage
CSGA Learn is seed learning for you, on your own terms, wherever and whenever. 
Step 12: Stay Informed
Seed growers can stay informed on the status of their seed crop certification by entering SeedCert. Inside, you can see the status of your field inspections and know whether CSGA requires additional information or corrective actions before the certification process can move forward.  Account balances, account profiles and previous year inspection records can also be viewed.
If you have questions, contact the CSGA office for guidance or assistance.