Les Trowell – 2019 Robertson Associate Award Recipient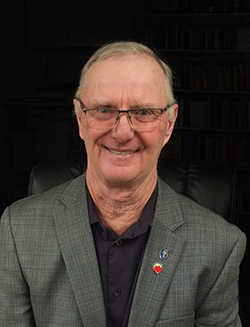 Les Trowell of Saltcoats, Saskatchewan was born in September, 1951. He attended Grahame School, a one room school house for 6 years and also attended school in Saltcoats and graduating high school in Yorkton in 1969. Les married Wendy in December 1972, and have a daughter Michelle and a son Jason. The family of Les and Wendy also includes a son-in-law Brent, a daughter-in-law Cathy, grandsons, Rylan, Justin, Jordan, Dalton, Dylan, granddaughters Alexis, Sara/Daniel and great granddaughters Kallie and Nova. Michelle and Brent, and Jason and Cathy live in Yorkton, Sk. Wendy and Les are very proud of each and every one of them.
Les is a third generation seed grower, with his grandfather beginning seed production 98 years ago in 1921. Les began growing seed in 1974 with his father Johnny and on his own in 1976, becoming a select grower shortly after that. In 1975, Les built his own seed processing facility. The farm currently produces pedigreed wheat, oats, barley, peas and flax. In 2015, the farm down sized to 4 quarters, now specializing in contract seed production of select and foundation seed for other seed growers and seed companies. Les is still a very active seed grower that has been roguing for over 55 years.
In January of 2005, Les was elected a director to the Saskatchewan Seed Growers Association, and was elected president in 2011 for two years. In 2006, Les was asked to sit on the board of directors for the Canadian Seed Institute and is currently past president of CSI. In October of 2005, Les was elected as Division 4 Councillor in the Rural Municipality of Saltcoats. Les has had various responsibilities with Saltcoats Minor Sports and the Chatsworth Curling Club. In 2009, Les along with the late Tim Charabin formed T & L Seeds. Les has thoroughly enjoyed his time on the SSGA and CSI boards, and feels truly honored to serve on those boards.
One person alone does not win this award. In most cases there is immense family support, help, loss of family time and major sacrifices. In this case, Les is no different.  Wendy also worked long hours as a partner in the seed business, endured a lot of frustration and last minute plan changes. Michelle and Jason were forced to rogue as teenagers and worked some weekends along with their full time jobs. Les truly feels that this a family award, without them, Les would not be here accepting this prestigious award.
Les has always had a very strong passion about seed and the seed industry that will continue into retirement. Les also enjoys gardening, hockey, curling and Rider games.