Rick Rutherford – 2020 Robertson Associate Award Recipient
Rick Rutherford is all about going to new heights.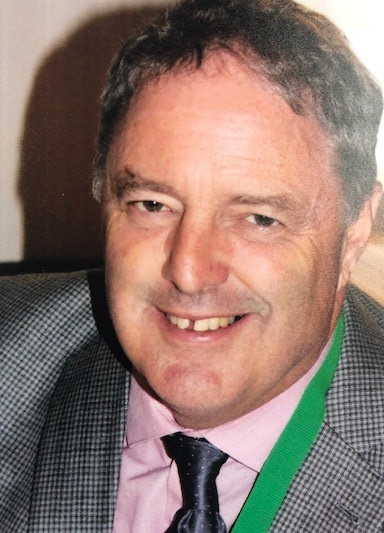 The Rutherford family has a long history of growing seed in Grosse Isle, Man. In 1950 Jack Rutherford, Rick's father grew his first field of certified Selkirk wheat. In 1978 Rick joined his father on the farm and they began growing seed together on 480 acres. Rick and his father formed a farm corporation which now operates as Rutherford Farms Ltd.
Rick became a Select grower expanding the farm over the years to its current size of 5,500 acres. Rutherford Farms has now grown, processed and retailed seed for over 70 years. The farm has grown many pedigreed seed crops starting with wheat, oats, barley, flax, and later expanding to peas, forage peas, fall and hybrid rye, canola, hybrid canola, ryegrass, Kentucky bluegrass, winter wheat and soybeans. One of the latest ventures has been an experimental fruit business including pick-your-own saskatoons on 10 acres.
Rick has been actively involved in many aspects of the industry. Recognizing the need for additional pedigreed seed, he mentored many new growers in the Grosse Isle area. Rick's time and commitment added value to their farms with a shared production for new seed, at times totalling 25,000 acres. Rutherford Farms built its first seed processing plant in 1960, upgrading in 1979 and completely rebuilding in 1998.
The new operation offered a bigger capacity and high throughput which attracted cleaning contracts with many multinational companies. Also, the new processing plant facilitated seed sales across Canada and the U.S. Rick's passion for cleaning and processing seed has earned him a reputation that has been sought after abroad and he now currently consults with two Chilean seed companies.
Rick and some fellow seed growers are also known for their vested interests in soybean and corn traits under the NorthStar Genetics banner. Rick's involvement in NorthStar Genetics has given him an opportunity to work with plant genetics suppliers both domestically and internationally. His latest endeavour in seed has led Rick into a breeding project specifically addressing issues in soybeans, which hopefully will strengthen the soybean adaptation in Western Canada.
Rick has a daughter and two sons. Kara is a veterinarian, Shea a financial professional with an agricultural focus, and Chad works in the security business.
"It has been a pleasure to have served on the board of the Manitoba seed growers and attend many meetings for both the CSGA and CSTA," Rick says. "The seed industry in Canada has opened many doors for me and I am very thankful for the opportunity it has given to myself and my family. Thank you for this award!"