October 4, 2021
CSGA Commits to Consultations on Proposed Changes to Circular 6
The Canadian Seed Growers' Association (CSGA) is committed to providing an agile and comprehensive national seed crop certification system that responds to member, crop production, and food sector needs. We are committed to working closely with partners to bring improvements to the regulatory system. 
Mandated to provide a national program of seed crop certification by the Seeds Act and the Seeds Regulations, CSGA plays key roles in the functioning of Canada's seed system. How the CSGA manages these roles is crucial to maintaining public trust in the system and its ability to serve the needs of an evolving agriculture and food sector.
CSGA regularly reviews the Canadian Regulations and Procedures for Pedigreed Seed Crop Production, known as Circular 6, which sets out the requirements a seed grower and a seed crop must meet for seed crop certification. These reviews and revisions enable a trusted, high-performing seed system that operates at its highest possible level. We ensure certification requirements meet the rapidly evolving needs of the seed sector and the broader agriculture community. Circular 6 reviews also allow requirements to be adapted to reflect changes in varieties and production practices and develop and administer certification requirements for new or emerging crop types. 
To ensure standards remain up-to-date and aligned internationally, CSGA relies on eight crop-specific working groups to review and make proposals for change. The working groups consist of stakeholders from across Canada, including seed growers, seed trade, plant breeders, seed crop inspectors, the CFIA, and other industry organizations and government bodies. As needed, the Association also forms ad hoc working groups with the necessary expertise to address crop-specific issues. 
CSGA's Regulatory Services Committee (RSC) then considers the working groups' recommendations and proposals. The RSC is diverse, with a grower from each CSGA Branch, an eastern and western provincial government advisor, the plant breeder advisor to the Board and other representatives of the seed trade, seed analysts, and CFIA's Seed Section. The RSC provides its final Circular 6 amendment recommendations to the CSGA's Board of Directors. After the Board's approval, a "Notice of Changes" and the updated version of Circular 6 are posted on CSGA's Regulations webpage by February 1 of each year.
CSGA is now committing to consulting on proposed changes to Circular 6 before the RSC makes a final recommendation to the Board. This added consultation ensures transparency, builds trust and allows other value chain stakeholders to engage in the process and provide feedback.
A consultation on proposed changes to Circular 6 for 2022 is now open. For more details on the proposed changes and how to provide feedback, please read the following Seed Scoop article. 
Back to top
Requesting Feedback on Proposed Changes to Circular 6 - Buckwheat and Cereals
CSGA is requesting feedback on changes proposed by the Regulatory Services Committee (RSC) to the Canadian Regulations and Procedures for Pedigreed Seed Crop Production (Circular 6) before a final recommendation is presented to the Board.
The RSC has recommended changes to the mechanical purity standards and the isolation and previous land use requirements relating to the presence of buckwheat in cereals and cereals in buckwheat.
The proposed changes address concerns that immature volunteer buckwheat plants are causing cereal seed crops to be declined certification or demoted to a lower class despite the minimal risk they pose to the mechanical purity of the seed.
You are invited to provide feedback on these changes by CSGA directly or calling 613-236-0497, ext. 227. The consultation period is open until November 2, 2021. The RSC will present its final recommendation to the Board of Directors later this fall, with the proposed changes potentially coming into effect on February 1, 2022, in time for the 2022 production season.
Overview
Pedigreed seed crop production requirements of all cereal classes include a maximum impurity standard for the presence of buckwheat. Cereal seed crops require isolation from buckwheat crops and must not be produced on land which had produced buckwheat in previous years. Conversely, the production of buckwheat seed crops also includes a maximum impurity standard for the presence of each of the cereals, and buckwheat seed crops require isolation from cereal crops. One difference is that the buckwheat previous land use requirements do not preclude any of the cereals.
CSGA's maximum impurity standard is expressed as the average number of plants permitted in the seed crop per 10,000 plants (20,000 for plots) regardless of their maturity. Even if mature plants are found during inspection, the cleaned seed must still meet the mechanical purity standards set out in Schedule I of the Seeds Regulations before it can be sold. However, there is no specific seed standard for buckwheat in cereals or cereals in buckwheat in the grade tables. When cereal seed is graded, buckwheat seeds are counted as "other crops"; when buckwheat seed is graded, any cereal seeds are counted as "other crops."
Each member of the Association of Official Seed Certifying Agencies, including CSGA, can determine which crop kinds are considered "inseparable other crops." Agencies such as the North Dakota State Seed Department do not consider buckwheat seed as inseparable from cereal seed.
CSGA has consulted with seed growers producing buckwheat and cereal seed, the Cereal Working Group, and seed analysts. The consensus was that due to several factors, including differences in seeding dates, maturity, and the herbicides available to control volunteer buckwheat, the risk of buckwheat contamination of cereal seed is reasonably low. If buckwheat does reach maturity in a cereal seed crop, although there may be higher cleanout, it can be removed during seed processing. Conversely, buckwheat is normally seeded later than cereals, so any volunteer cereals are usually destroyed by cultivation before seeding.
Proposed Changes to Circular 6
The revised certification requirements for buckwheat and the cereals, using barley as the example, with the proposed changes highlighted, can be viewed here and highlighted below. 
Mechanical Purity Standards 
Remove the standards for the presence of buckwheat in cereal seed crops for all classes.
Remove the standards for the presence of cereals in buckwheat seed crops for all classes.
Isolation Requirements
Remove the reference to buckwheat in the isolation requirements for cereals of all classes.
Remove the reference to cereals in the isolation requirements for buckwheat of all classes.
Previous Land Use Requirements
Remove the reference to buckwheat in the previous land use requirements for cereals of all classes.
Your input on proposed Circular 6 changes helps maintain an agile and up-to-date seed crop certification system. Your feedback is greatly appreciated. Should you have any feedback or questions regarding the proposed changes, please email Gail Harris, Manager Standards or call 613-236-0497, ext. 227.
Back to top
CSGA Sends Comment Letter to the CFIA on Part V of the Seeds Regulations
Part V of the Seeds Regulations describes the regulatory requirements for the release of plants that may impact the Canadian environment, including new crop kinds and plants with novel traits. The Canadian Food Inspection Agency's (CFIA) consultation on proposed guidance for Part V ran from May 19, 2021, to September 16, 2021. The goal of the consultation was to provide stakeholders with an opportunity to better understand the requirements for the environmental release of plants in the context of new and emerging technologies such as gene editing and to provide feedback on the proposed guidance. Information on the CFIA consultation can be found here.
CSGA provided feedback to the CFIA via a comment letter highlighting the following:
Canada's regulatory framework for plant varieties used in agriculture must not impede or discourage plant breeding. Agriculture is a driver of economic growth and must become more sustainable.
For Canada to reach the export market targets set for our agriculture sector, Canadian producers will need access to the best crop genetics without unnecessary delay. All conventional breeding and similar products deserve to be excluded from the scope of Part V of the Seeds Regulations because they can be well managed.
No other country requires pre-market safety assessments of conventionally bred plants. Hence, CFIA should take a similar approach and recognize that the agriculture sector is well equipped to manage any production issues that could arise without mandatory government oversight or intervention.
Clarity is needed for efficient cross-border trade. It will be difficult or impossible for importers and exporters to determine whether they are handling material that the CFIA considers subject to Part V, creating the potential for trade disruptions. If guidance cannot be applied to imported products, then all similar products developed within Canada should be exempt as well.
CSGA is most concerned that the new guidelines could perpetuate the over-regulation of plant breeding, stifling investment and innovation.
Should you have any questions about CSGA's position on the Part V consultation, please email Mike Scheffel, Managing Director of Policy and Standards.
Back to top
Reminder - Fee Review Consultation Now Open
Responding to the needs of a modernizing seed sector and the increased costs of delivering a national seed crop certification system, the CSGA Board of Directors has completed a fee review and is proposing adjustments starting in 2022. CSGA is seeking feedback on the proposed fees and an annual fee adjustment policy beginning in 2023. Your insights and opinions are important to us. All feedback received will be used to help shape the Board's final fee recommendation to Members before a virtual Special General Meeting, soon to be announced for later this fall.
Full details are available online here. We encourage everyone involved in seed certification to submit comments by October 31, 2021.
Back to top
Hay West 2021
Hay West 2021 is a relief program operated by the Canadian Federation of Agriculture, working with farmers across eastern and central Canada to provide hay to western livestock producers affected by the drought.
Thanks to the kindness and generosity of farmers across Canada, the program is now operational with substantial contributions of hay to start moving westward.
Those looking to receive or supply hay can sign up at haywest2021.net.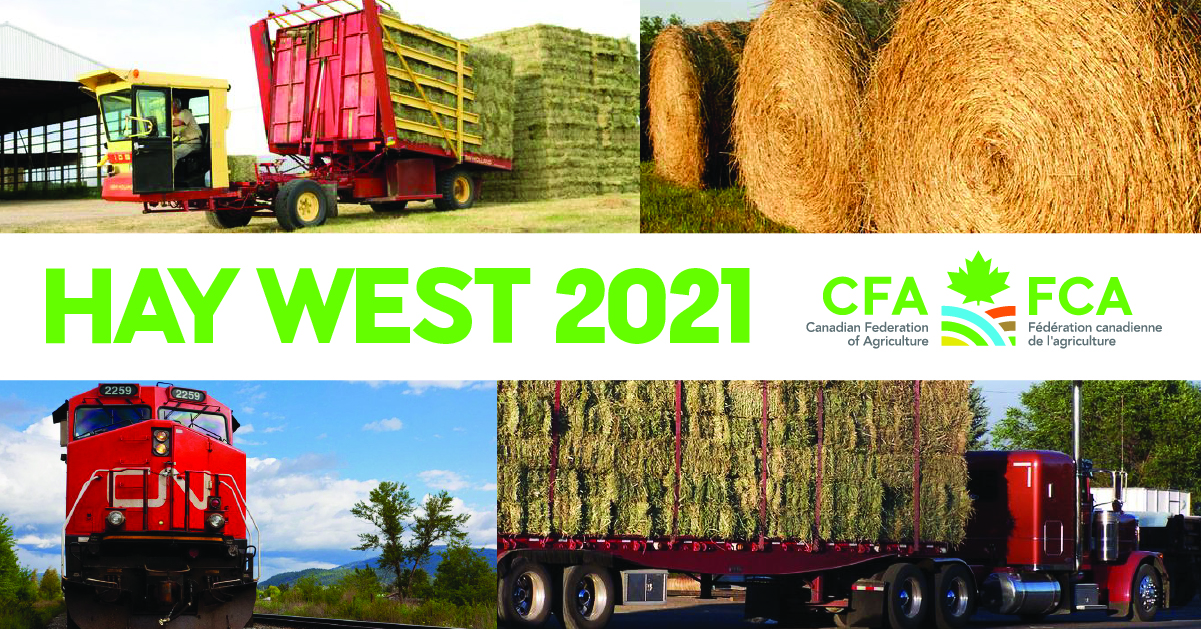 Back to top
Contact Us
CSGA staff are here to help you. Don't hesitate to contact us. Remember the CSGA national office operates in the Eastern Time (ET) zone.
Telephone: (613) 236-0497
Email: communications@seedgrowers.ca
Address: 21 Florence St, Ottawa, Ontario K2P 0W6
Click here for complete staff contact information.