CSGA and its Seed Synergy partners are asking you to vote on a proposal to create a single, National Seed Organization (NSO), to be called Seeds Canada to speak with one voice for the sector. To help you cast your vote, we want to share key features of the proposed new organization that will be in place starting on Day 1. The structure of the Board of Directors for Seeds Canada is focused on balancing regional and value chain representation, as well as policy and regulatory functions.
What Does the New Governance Structure Look Like? 

Meet the Inaugural Seeds Canada Board of Directors
The Inaugural Board of Directors of Seeds Canada includes 15 outstanding seed sector leaders who bring regional and value chain representation, policy and regulatory expertise, and leading governance experience.

The Seeds Canada Inaugural Board of Directors includes a Director from each of Seeds Canada's seven regions and the sector's four value chain segments. Together, the Board of Directors brings the skills and competencies needed to make Seeds Canada a success for members and the sector.
How we got here:
The Boards of Directors of the amalgamating organizations and the CSGA's Provincial Branches were asked to identify potential candidates. More than 50 qualified candidates put their names forward to be considered for the Seeds Canada Inaugural Board of Directors. All candidates were assessed using a skills and competencies matrix and the regional and value chain needs of the new organization.
The process for electing future board members:
The Governance and Nominating Committee struck by the Board of Directors will call, accept, and vet applications from eligible members interested in serving on the Board in either a value chain or regional position. Members of Seeds Canada (from all membership categories) will be able to nominate individuals to stand for all Board seats. Every member of Seeds Canada will have the opportunity to elect the Board even if they are not able to physically attend an Annual General Meeting. This means that mail-in or digital voting will be made available to ensure that all members have their voices heard in Board elections.
How is this different from how CSGA currently elects its Board of Directors?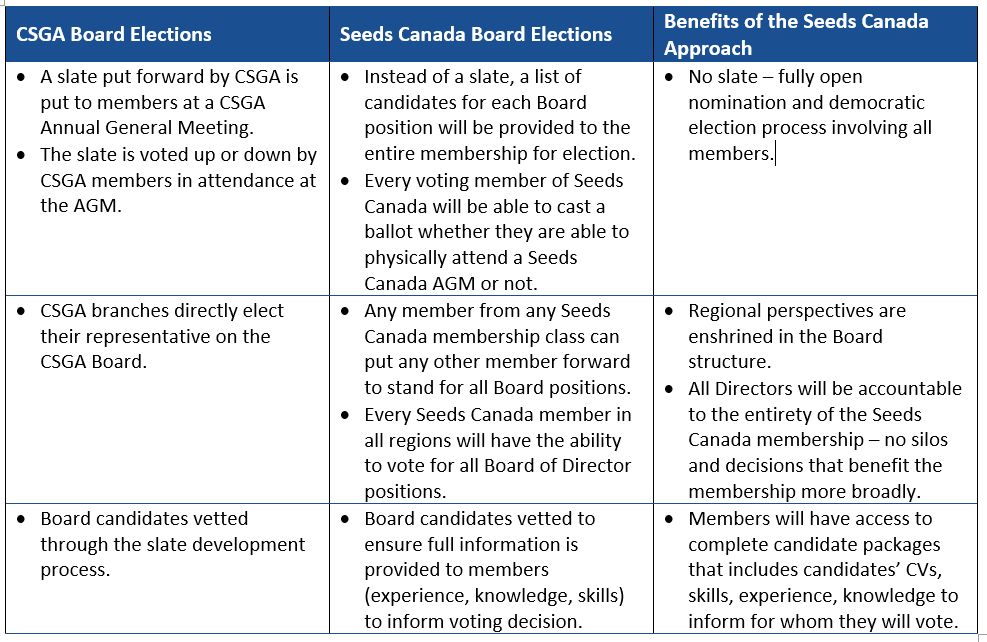 How to Learn More and Ask Questions 

Seed growers are encouraged to attend a CSGA Town Hall to hear from CSGA leaders and from other seed growers. This is your opportunity to discuss the amalgamation proposal, share your opinion and ask questions. The next session is Thursday, July 30. Register here.
To help you learn more, CSGA has prepared an information webinar on the proposed amalgamation. Listen to the video on our YouTube channel at a time that is most convenient for you, or even as you are out in the field!
For more on Seeds Canada including the Amalgamation Ratification Package and how to vote by August 27, visit seedgrowers.ca/seeds-canada-ratification.
---
We are at an important crossroads for the Canadian seed sector and it is your moment to stand up and be counted.
---