September 21, 2022
Harvest Continues Across Canada! Check Your Certification Status
If you are ready to harvest, check your crop certification status in SeedCert to ensure your fields have been inspected before starting the combine. Harvest should only occur after CSGA has determined that the production requirements have been met. An uninspected harvested crop is an uncertified seed crop. Only CSGA will provide the final certification decision.
Once the field is inspected, you can use the "Crop History" tab to verify the status of your crop. If the field meets all certification requirements, an email will be automatically sent to you as notification that a new certificate is available. You will be asked to visit the "Crop Certificate" tab in SeedCert to sign and finalize your certificate. Please check out our How-To video for instructions on accessing, signing, and sharing your digital crop certificates.
SeedCert is your certification window! If you have any questions or concerns, please contact us by email or phone at 613.236.0497 ext. 8803. We are here to help you.
Back to top
CSGA Meets with Minister Bibeau
On August 24, 2022, our Executive Director Doug Miller, COO Caroline Lafontaine, and Board Director and seed grower Roxanne Asselin met with the Minister of Agriculture and Agri-Food, the Honourable Marie-Claude Bibeau. It was a positive and productive meeting with CSGA presenting our "Roadmap for the Canadian Seed System," including a conversation around the public-private relationship between the CFIA and CSGA, the importance of seed certification, and our goals for Seed Regulatory Modernization.
Back to top
Upcoming Consultation on Breeder Seed Regulations Review
As most know, CSGA sets and maintains standards for seed crop certification in Canada through Circular 6. But in addition to Circular 6, we also set, maintain, and administer standards for the official recognition of plant breeders and the production of Breeder seed in CSGA's Breeder Seed Crop Regulations.
While Circular 6 underwent a full review in 2020, the Breeder Seed Regulations have not undergone a comprehensive review in some time. CSGA is now reviewing the Breeder Seed Regulations to ensure they best meet the needs of our rapidly evolving seed sector – and we want you involved.
The purpose of CSGA's Breeder seed regulations is to ensure that genetically pure, high-quality seed of new varieties is available to bring plant breeding innovations to the market for the benefit of the agriculture and food sectors. Certification requirements are described in CSGA's Canadian Regulations and Procedures for Breeder Seed Crop Production.
In the coming weeks, CSGA will consult with active plant breeders, growers, and other stakeholders, asking for their input on several proposals for modernizing the Breeder Seed Regulations. Feedback will be shared with the Plant Breeders' Committee, and the Regulatory Services Committee before recommendations for revision go to the Board. The goal is to publish a revised and reformatted version in 2023.
Watch for more information on the consultations this fall. In the interim, please email Gail Harris with any questions.
Back to top
Seed Sample Bags for Plot Growers
It is that time of year again! Variety verification seed sample bags and Form 50's are being sent out to all growers who produced plots in 2022.
Growers producing Foundation, Select and Probation plots must submit a seed sample directly to the Canadian Food Inspection Agency's (CFIA) Seed Science Unit to complete the certification process. Growers are asked to submit one seed sample per crop certificate. It's important to follow the seed sample submission procedures provided to ensure that your seed sample meets requirements. In addition, to complete the seed plot certification process, growers must also complete a Form 50 in SeedCert to report on the production of that plot.
The CFIA's Variety Verification Program is an essential component of Canada's seed certification system and provides a quality check on that system. With access to nearly all varieties produced at high generations from year to year, the program offers an unparalleled view and understanding of the varieties available to producers in Canada.   
If you have any questions, please contact us at 613.236.0497 ext. 8806 or by email.
Back to top
Have You Got Three Minutes?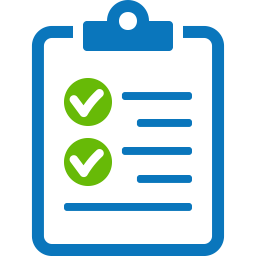 We are committed to providing our members and stakeholders with valuable services and the best overall experience possible. We'd like to hear about how you think we are doing. What are we doing right? Where can we improve? Your feedback will help us strengthen the services we provide.
Click here to participate in the CSGA Satisfaction Survey – we promise it won't take more than three minutes! All responses will be kept strictly confidential. We appreciate your help.
Back to top
We Did It Again! CSGA Passes Annual ISO Certification Audit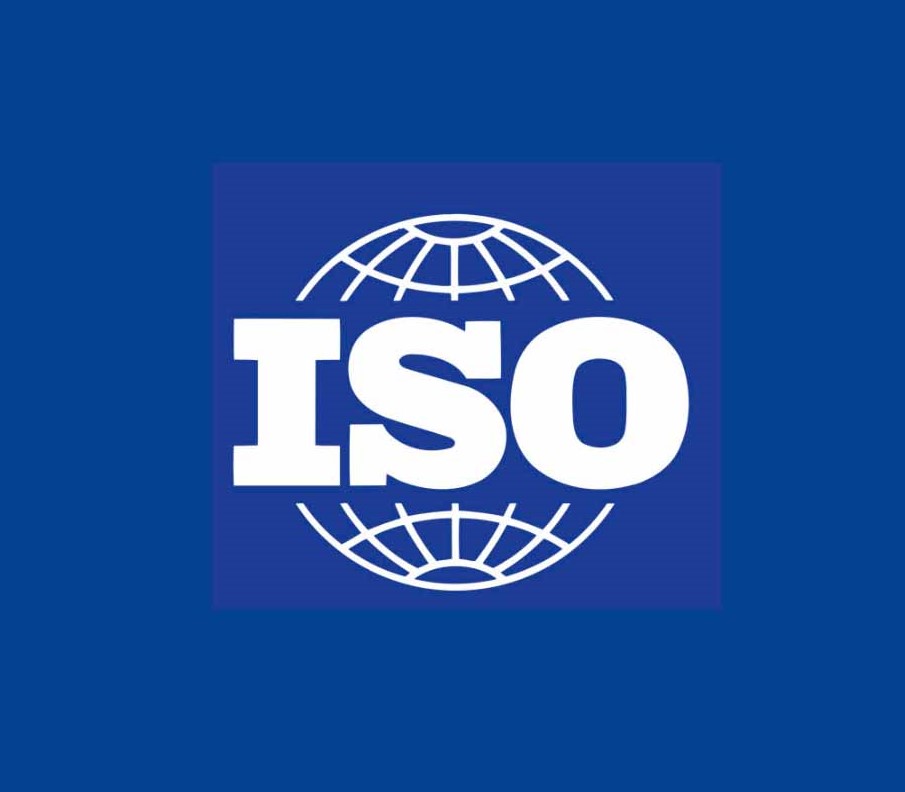 On June 20, 2022, CSGA's Quality Management System (QMS) was audited under ISO 9001:2015. The purpose of the audit is to evaluate the implementation and effectiveness of CSGA's management system. Once again, it was recommended that we continue our certification under this QMS. No corrective actions were required, and positive observations were made about our quality objectives, thoroughness of internal auditing and reporting, and our general QMS Management Review documentation.
Back to top
Get Your Seed Included in this Year's Seed Listings! Your Consent is Required
Having your seed listed in CSGA's National Pedigreed Seed Locator and the provincial seed guides is an important marketing tool for seed growers and seed companies. Seed buyers turn to these resources to locate and purchase seed of the variety and class they need for their farming operation.
Seed growers or crop certificate assignees must explicitly consent to CSGA to be included in any of these listings. Your seed will not be included in the pedigreed seed crop directories without express consent and identification of the personal information you wish to be released. Check with your provincial seed guide publisher for printed version cut-off dates and ensure consent is provided in advance.
To verify your consent or make changes to the personal information provided, growers and crop certificate assignees are encouraged to log in to SeedCert and visit the "My Account" tab to verify your information. For assistance, please contact us via email or call 613-236-0497, ext. 8803.
Only seed registered for sale in Canada is included in CSGA's Pedigreed Seed Locator and provincial seed guides. 
How to Verity Consent Through SeedCert:
Log in to SeedCert, click the head icon in the top right and select "My Account"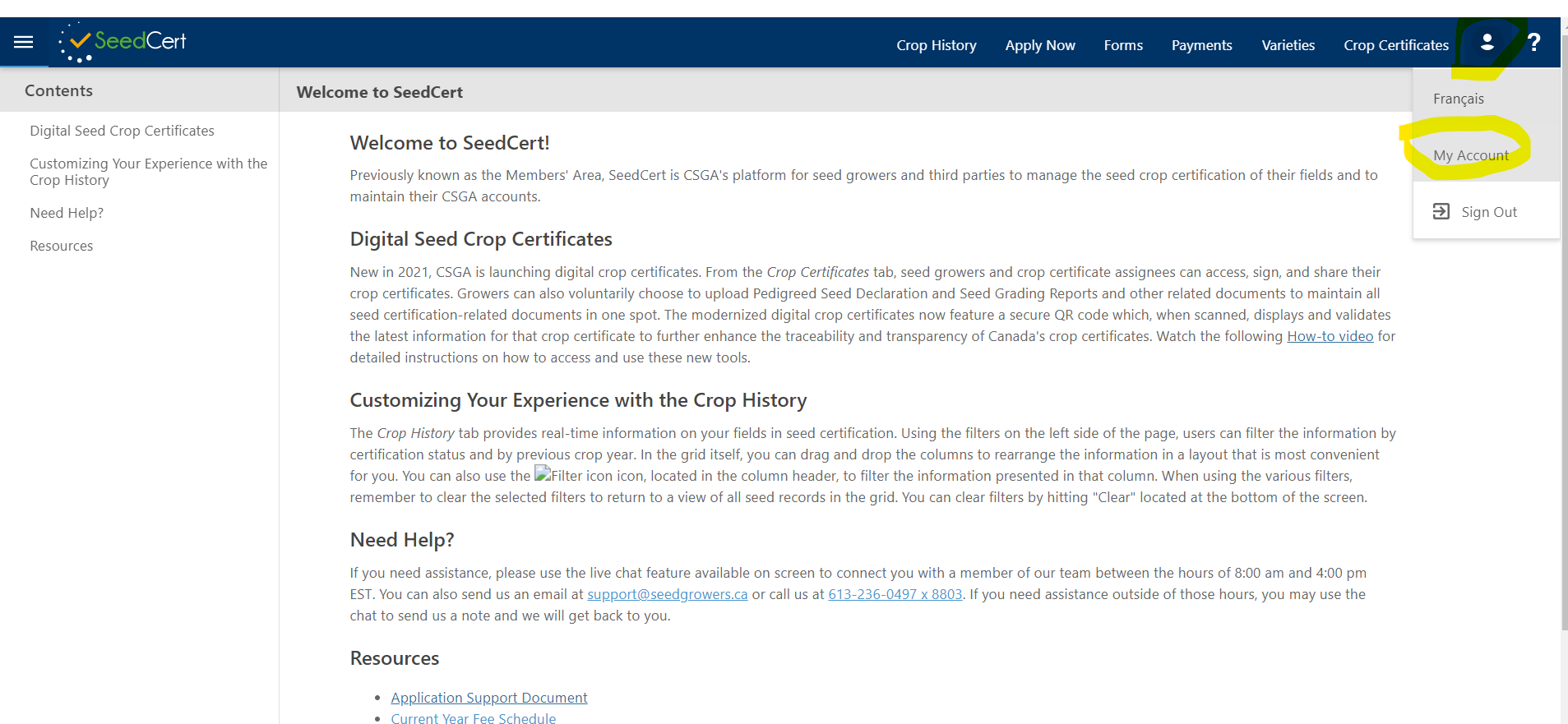 Scroll down to the middle of the page to the consent questions
Marketing Your Carry-Over Seed
Growers and crop certificate assignees may have carry-over seed available for sale. To enter your carry-over seed in these important marketing tools, you may use the Notice of Carry-Over Seed form available under the Forms tab in SeedCert to notify CSGA of any carry-over seed available to be listed. A $50 fee per crop certificate (per variety/class) is applicable and will be charged to your account.
Log in to SeedCert, choose the Forms tab and scroll down to "Notice of Carry Over Seed"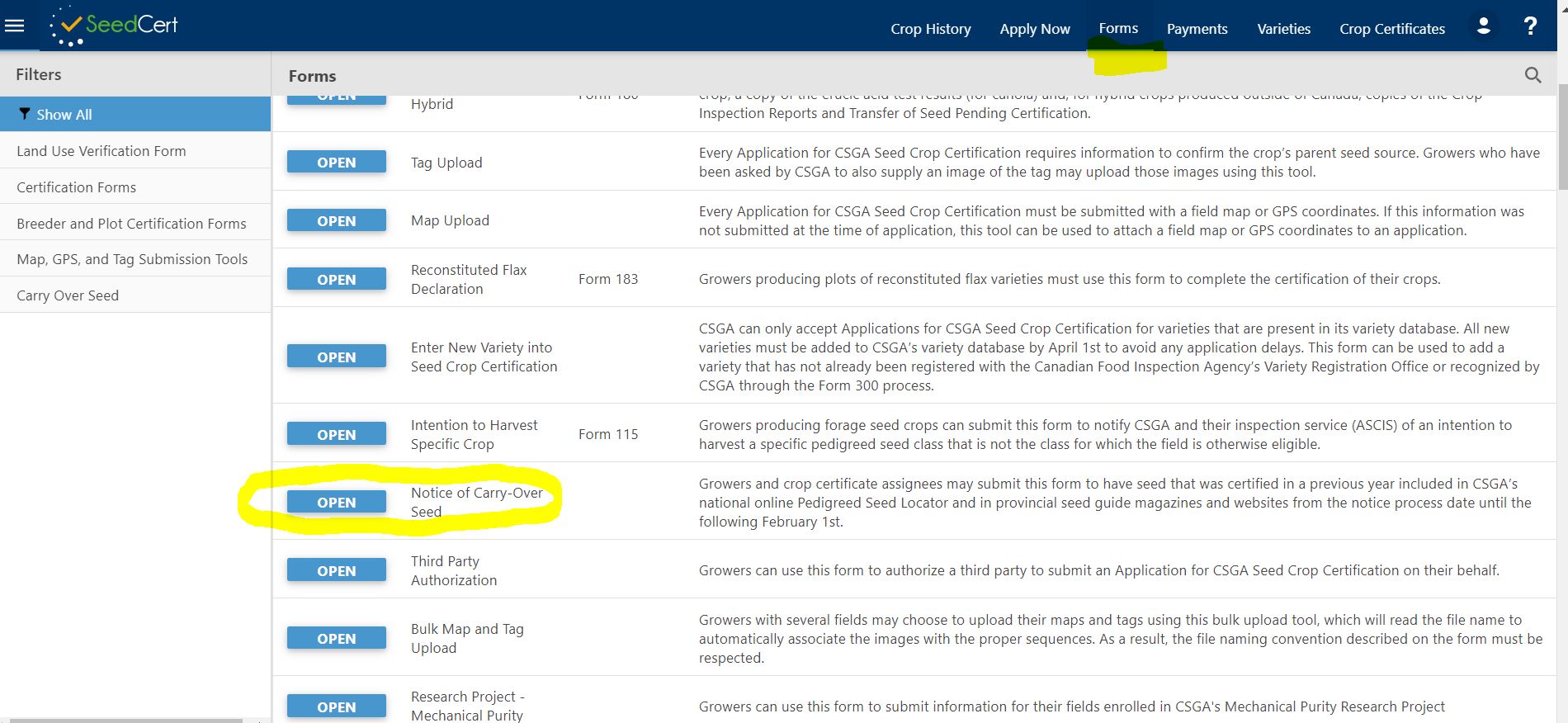 Back to top
Contact Us
CSGA staff are here to help you. Don't hesitate to contact us. Remember the CSGA national office operates in the Eastern Time (ET) zone.
Telephone: (613) 236-0497
Email: communications@seedgrowers.ca
Mailing Address: P.O. Box 8455, Ottawa, Ontario, K1G 3T1
Courier Address: 21 Florence St, Ottawa, Ontario K2P 0W6

Click here for complete staff contact information.